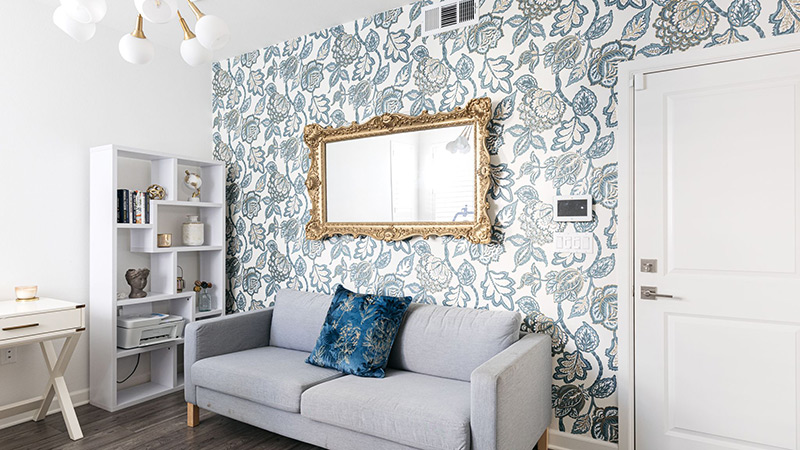 Including color to any room can be an unsettling task. You don't want the wallpaper to be glaring, but you definitely don't want the wallpaper to be boring. Wallpaper can benefit you by adding color without all of the hassle. It's an effortless way to add personality to your space. It's a great choice when you want to incorporate specific patterns on your walls, and there are so many different preferences available that you're sure to discover something that fits your style. It's very easy to take off, so why not give it a try.
Decorative Designs
Whether your wallpaper is outdated or tacky, there are many modern, stylish designs available that can add personality and creativity to any room. Wallpaper is a great way to cover up blemishes or simply add some extra color, and some offer a rough texture to them which can be visible and add detail to your interior decor.
Wallpaper can help you add color. You can easily enjoy any number of patterns or symbols on your wall with wallpaper. From elegant patterns to fun themed symbols, there's an endless list of options from which to choose. The right wall paper will bring life and personality into your home, from elegant patterns to fun themed symbols, there are so many different wallpapers for any occasion!
Little Work With Large Benefits
You might be tempted to think that painting would have the edge over wallpaper when you put both side by side. Properly hung wallpaper will last 3 times as long as paint. Wallpaper is a great way to decorate high traffic areas in your home. While paint can flake or chip, wallpaper can be disastrous for your interior. Wallpaper is a cost-effective and durable way to decorate your room, since it can last up to 15 years and beyond. High traffic areas in your home will benefit greatly with wallpaper.
Pros and Cons
Some pros about wallpaper are that it can be washed, there are nearly limitless designs to soot your likings, it can help cover up flaws, and the rolls cost up to 30 dollars a roll. Likewise, there are also some cons with it. It is more time consuming to change wallpaper, and there might be some peeling or chipping.
Questions? Contact Mallahan Mortgage Team Today!